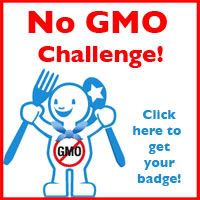 The No GMO Challenge begins today and will change your life!
This is a rolling challenge and you may enter at any time. It'll keep going until we get the GMOs out of our food supply in America.
Click here
for complete details. By joining, you'll have chances to win great prizes such as grass fed meats, GMO-free salad dressings, and organic coconut oil.
Good luck!
UPDATE: The No GMO Challenge just made it's way to
CNN
. The word is spreading!